KLAYMAN: COVER-UP OF DRAFT DOBBS DECISION AND THEFT BY LEFTIST JOSH GERSTEIN OF POLITICO CONTINUES!
Order "It Takes a Counter-Revolution!" at Amazon.com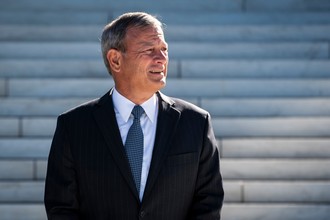 By Robert Barnes
Washington Post
December 31, 2022
It was one of the most controversial terms in Supreme Court history, with the shocking leak of a draft opinion that eventually overturned a half century of abortion rights, public polls that showed record disapproval of the court's work and biting dissension among the justices themselves about the court's legitimacy.

But Chief Justice John G. Roberts Jr. chose not to address those or any other controversies in his annual "Year-end Report on the Federal Judiciary," issued Saturday. Instead, he focused on a high mark of the judiciary's past — a federal district judge's efforts to implement school desegregation at Little Rock's Central High School after the Supreme Court's landmark 1954 decision in Brown v. Board of Education.

"The law requires every judge to swear an oath to perform his or her work without fear or favor, but we must support judges by ensuring their safety," Roberts wrote in his nine-page report. "A judicial system cannot and should not live in fear. The events of Little Rock teach about the importance of rule by law instead of by mob."


Support Our Cause and Join Our Fight!
Your help is urgently needed!

Follow us on Twitter
and
Facebook