KLAYMAN: BIDEN'S SELLOUT WITH IRAN NUCLEAR DEAL CAUSED SAUDIS TO RAISE OIL PRICES TO CAUSE HUGE DEM LOSS IN NOVEMBER ELECTIONS! DEMS GET WHAT THEY DESERVE! PRAISE FOR THE SAUDIS!
Order "It Takes a Counter-Revolution!" at Amazon.com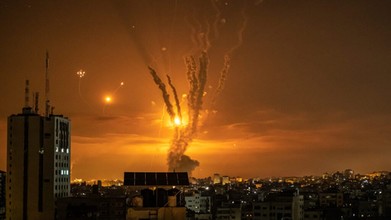 By Arie Egozi
Breaking Defense
October 22, 2022
TEL AVIV — New tensions in the relationship between Saudi Arabia and the United States have led to an effective freeze in efforts by Israeli defense firms to land business with the wealthy Kingdom. But hopes for a major spending bonanza in Europe remain, if US-created hurdles can be overcome.

When Riyadh decided to cut oil production last week as part of the OPEC+ decision, it set off an immediate firestorm in Washington, where the move is expected to raise gas prices ahead of the midterm elections in November while giving Russia an economic lifeline. The criticism from Democratic lawmakers quickly coalesced around whether curtailing arms sales to the Kingdom could be a way to strike back.

Of note were comments from Sen. Robert Menendez, D-N.J., who as chair of the Senate Foreign Relations Committee has the ability to hold up any arms sale agreement. "I will not green light any cooperation with Riyadh until the Kingdom reassesses its position with respect to the war in Ukraine," Menendez said in a statement obtained by Politico. "Enough is enough."


Support Our Cause and Join Our Fight!
Your help is urgently needed!

Follow us on Twitter
and
Facebook