KLAYMAN: WHY NOT! BIDEN HAS DESTROYED EVERYTHING ELSE!
Order "It Takes a Counter-Revolution!" at Amazon.com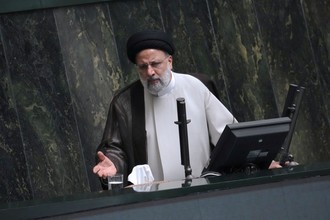 The Hill
October 16, 2022
Which is more important to President Biden, rejoining the Joint Comprehensive Plan of Action (JCPOA) or strengthening the Abraham Accords between Israel and its Arab neighbors? There should be little doubt that Biden has shown he prioritizes the Iran nuclear agreement. But does that mean the death knell for the two-year-old Abraham Accords if the Iranians finally say yes to the American offer after the U.S. midterm elections?

Despite the protests for regime change running rampant through the Islamic Republic, the Biden administration has signaled to Ayatollah Ali Khamenei that it desires a return to the JCPOA — no matter what Iran's "morality police" may do to their citizens. Although it is not a binary choice, a Biden foreign policy triumph with a return to the nuclear agreement would profoundly affect the sustainability of the groundbreaking Abraham Accords.

The impetus for the Accords in 2020 was mainly the threat of an expansionist Iran. However, America's return to the nuclear deal without considering Iran's aggressive behavior, or its breaches of the JCPOA since 2015, undermines the Abraham Accord signatories' trust in America and the sustainability of that agreement.


Support Our Cause and Join Our Fight!
Your help is urgently needed!

Follow us on Twitter
and
Facebook