KLAYMAN: EVEN THE NYT CANNOT REFUTE THAT BIDEN IS UNFIT TO BE PRESIDENT: WORST IN AMERICAN HISTORY: BRAINDEAD, DISHONEST, STUPID AND INCOMPETENT!
Order "It Takes a Counter-Revolution!" at Amazon.com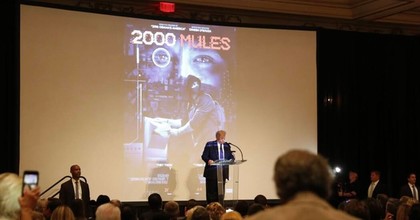 By Danny Hakim and Alexandra Berzon
New York Times
May 30, 2022
PALM BEACH, Fla. — Votes switched by Venezuelan software. Voting machines hacked by the Chinese. Checking for telltale bamboo fibers that might prove ballots had been flown in from Asia. After the 2020 election, Donald J. Trump and his allies cycled through a raft of explanations for what they claimed was the fraud that stole his rightful re-election as president, all of them debunked.

Yet on a recent evening at his Mar-a-Lago resort, there was Mr. Trump showcasing his latest election conspiracy theory, one he has been advancing for months at rallies for his favored midterm candidates.

The basic pitch is that an army of left-wing operatives stuffed drop boxes with absentee ballots — a new spin on an old allegation that voter-fraud activists call "ballot trafficking." And while MAGA-world luminaries like Rudolph W. Giuliani, Representative Marjorie Taylor Greene and the MyPillow founder Mike Lindell filled the gilded ballroom, the former president called out two lesser-known figures sitting up front — the stars of "2000 Mules," a documentary film promoting that ballot-trafficking theory and premiering at Mar-a-Lago that night.



Follow us on Twitter
and
Facebook
Support Our Cause and Join Our Fight!
Your help is urgently needed!