KLAYMAN: THE ULTRA-LEFTIST ADL IS DESPICABLE: SAYS NOTHING ABOUT THE HOLOCAUST IN UKRAINE BUT OBSESSED WITH ALLEGED U.S. WHITE SUPREMACY! AS A JEW I AM DISGUSTED WITH JEWS NOT CONFRONTING BIDEN AND THE WEST FOR FAILING TO STOP PUTIN'S GENOCIDE WITH MILITARY INTERVENTION RATHER THAN PHONY AND INEFFECTIVE SANCTIONS: HAVE JEWS LEARNED NOTHING FROM THEIR HISTORY WITH HITLER! DISGUSTING!
Order "It Takes a Counter-Revolution!" at Amazon.com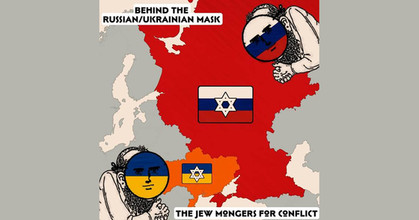 Anti-Defamation League
April 7, 2022
Since Russia's invasion of Ukraine on February 24, 2022, extremists and antisemites across the ideological spectrum have used the war as fodder for promoting antisemitic conspiracy theories. Emanating from classic antisemites and white supremacists, as well as QAnon influencers and Proud Boys acolytes, classic tropes of Jewish power, financial control and "abuse" of the Holocaust narrative abound online. In just a few short weeks, tens of thousands of social media users have been exposed to these dangerous lies.



Follow us on Twitter
and
Facebook
Support Our Cause and Join Our Fight!
Your help is urgently needed!