Klayman: Coach K's Team of Non-Student One and Done Ringers Will Not Win Championships as They Have Little Connection to the Student Body! Detached Losers!
Order "It Takes a Counter-Revolution!" at Amazon.com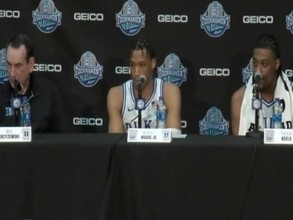 By WRAL
WRALSportsFan.com
March 13, 2022
After his final ACC Championship game, Coach K and players talk 82 - 67 loss to Virginia Tech. Show Transcript

but we lost the championship, but that doesn't define how well we played this whole week. I'm gonna go to the other room 2nd row, this is for Wendell or Trevor, you guys were able to hold a loom a scoreless until about the six minute mark in the first half and then he kind of got loose. What did you see from him specifically that allowed him to turn it on. Trevor, Can you take that one for us? Uh like coach said earlier, Loom was a great player, um very versatile, pick and pop, you can pretty much do whatever. Um so you know, you know, we play good defense from start off, you know, he's going to get going um that's, he's a great player. Um you know, it's not gonna, you're not gonna completely shut him out the game. Um he do so much for the team. Um and you know, he stepped up in big moments um and you got to give all the credit to him. Yeah, when you go to Canada and here in the middle of the room window, you guys looked like you had turned the corner defensively back to the game at Virginia and then the two after it at Syracuse and pitt what's gone on the last four games defensively where it looks like you guys are not in rhythm. Um I think our communication has been a little off. I mean, I definitely feel like the efforts there from all of our guys. Um I just felt a little later in our talks a little later on the switches.



Follow us on Twitter
and
Facebook
Support Our Cause and Join Our Fight!
Your help is urgently needed!