Klayman: Napolitano Is Along With Chris Wallace and Others the New Ugly Face of Fox News Under Lachlan Murdoch!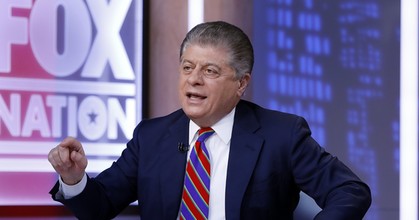 Washington Examiner
February 8, 2020
Fox News contributor Judge Andrew Napolitano blasted the Senate's acquittal of President Trump, calling the chamber's vote a "legal assault on the Constitution."

In Thursday op-ed for Fox News, Napolitano opened his argument with a quote from British novelist George Orwell's1984, which read, "The party told you to reject the evidence of your eyes and ears. It was their final, most essential command." The judge lambasted Senate Republicans for accepting the "morally bankrupt, intellectually dishonest" arguments of Trump's impeachment defense team.

Alan Dershowitz, a member of the president's legal defense team, argued during the Senate trial that the articles of impeachment do not fall under the Constitution's criteria of high crimes and misdemeanors. The Harvard Law School professor emeritus claimed the House's abuse of power and obstruction of Congress articles were so broad that they would have led to the impeachment of many presidents, including George Washington and Abraham Lincoln.


Hosts Judah Friedman and Larry Klayman explore current political issues, as well as Klayman's breadth of legal work, and how the two parallel each other in today's divided political spectrum.

Follow us on Twitter
and
Facebook
Support Our Cause and Join Our Fight!
Your help is urgently needed!