Klayman: Hannity Is Right but He Should Stop Repeating the Same Monologue Every Night and Stop Misleading His Audience That the Gov't Will Mete Out Justice! He Makes These False Predictions to Boost His Ratings but the American People Need the Truth!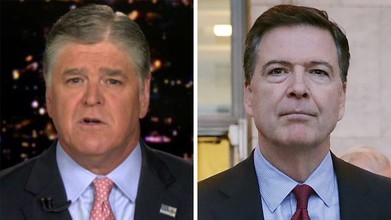 By Victor Garcia
Fox News
December 11, 2019
Attorney General Barr doubles down on claims the FBI spied on Trump campaign.

Sean Hannity defended his reporting Tuesday on the FBI's Russia investigation and blasted former FBI director James Comey over Department of Justice Inspector General Michael Horowitz's report.

"For two and a half years, our ensemble cast. We got the crap beat out of us every day. We were beaten up. We were made fun of. That's all fine. I don't really care what anybody says anymore," Hannity said on his television program. "But you, we the people, we were right every step of the way. And the inspector generals, FISA abuse report, while limited in scope, confirmed and revealed major facts."


Support Our Cause and Join Our Fight!
Your help is urgently needed!

Follow us on Twitter
and
Facebook