The Last Word on the Ilhan/Tliab Controversy
See Complaints v. Omar Embedded Below!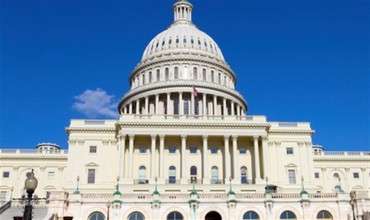 By Mark Silverberg
Israel National News
September 3, 2019
Reps. Ilhan Omar of Minnesota and Rashida Tlaib of Michigan both freshmen Democratic Congresswomen have built their reputations on delegitimizing the Jewish state and working towards its destruction. They were not good-faith actors earnestly seeking to visit the Holy Land to learn about its people, history and culture.
If their intention was to see the facts on the ground for what they are, they could have easily joined 72 of their fellow new Democratic and Republican House members who visited Israel recently as part of a Congressional delegation. Instead, they sought a visit to "Palestine" (a country that doesn't exist and a word often used to deny Israel's right to exist) that would have given them an international platform to spew their hatred so they preferred to go separately to avoid the discomfort of meeting with Israeli leaders and experiencing an Israel that did not mesh with their preconceived notions.
COMPLAINT FOR WRIT OF MANDAMUS TO ORDER U.S. DEPARTMENT OF HOMELAND SECURITY TO COMMENCE INVESTIGATION OF REP. ILHAN OMAR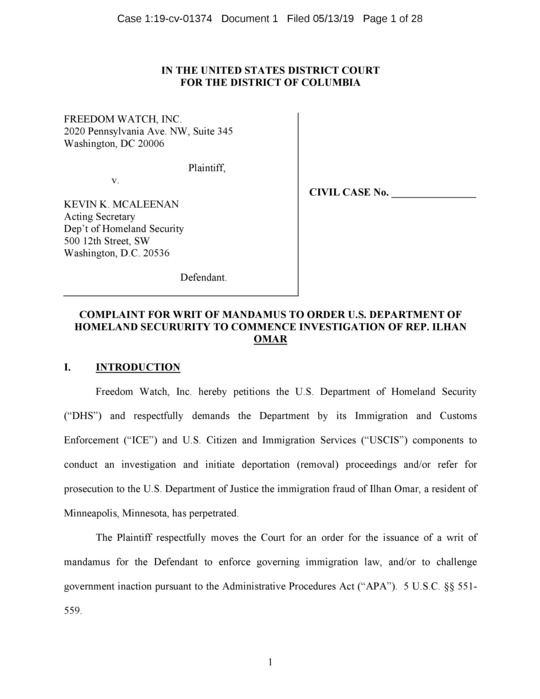 Click to View PDF
PETITION TO COMMENCE DEPORTATION PROCEEDINGS FOR REMOVAL FROM THE UNITED STATES AND/OR PROSECUTION OF ILHAN OMAR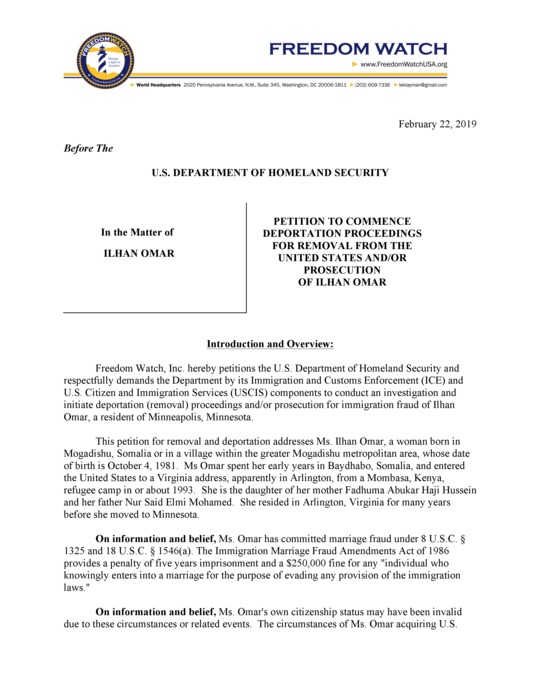 Click to View PDF
Support Our Cause and Join Our Fight!
Your help is urgently needed!

Follow us on Twitter
and
Facebook