Klayman: Israel and Jew Haters Like Omar Also Want the Corrupt UN to Step in With the Palestinians! No Surprise Here!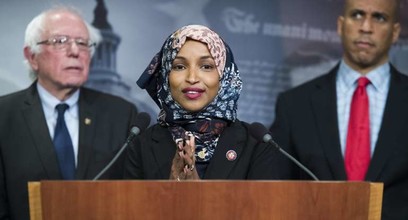 Homeland Security
September 2, 2019
The wise and statesmanlike Democrat congresswoman from Minnesota, Ilhan Omar, demonstrating yet again her determination to protect and defend the citizens of the United States, has come up with a new idea to safeguard the security of American citizens: place the border and migration crisis in the hands of the resolutely fair and impartial United Nations. Yeah, that'll work.

"We should do what any other country does by dealing with this situation in a serious way," said Omar. "So we have to bring in the United Nations High Commissioner for Refugees, an agency that has the expertise and the training to handle massive flows of refugees humanely."

Expertise and training, she said. And indeed, it is undeniable that Filippo Grandi, the UN High Commissioner for Refugees, as well as his predecessor, António Guterres (who is now the UN's Secretary General) has quite an impressive track record. Look at how Grandi and Guterres have looked out for the interests of Europeans: on their watch, the Islamic State (ISIS) boasted it would soon flood Europe with as many as 500,000 refugees. These were not empty words. Just a few months after the Islamic State issued this threat, thousands of refugees did begin to storm into Europe. Nor were all of these migrants peaceful people simply seeking a better life. All of the jihadis who murdered 130 people in Paris in November 2015 had just entered Europe as refugees. The Lebanese Education Minister said in September 2015 that there were 20,000 jihadis among the refugees in camps in his country, waiting for their chance to get to Europe. On May 10, 2016, Patrick Calvar, the head of France's DGSI internal intelligence agency, said that the Islamic State was using migrant routes through the Balkans to get jihadis into Europe.


Support Our Cause and Join Our Fight!
Your help is urgently needed!

Follow us on Twitter
and
Facebook