Klayman: McCabe Either Will Not Be Indicted or He Will Plead Out to a Slap on the Wrist! DOJ Corruptly Protects Its Own Sean Hannity! Stop Selling False Hope to Boost Your Ratings! Support FW's Citizens Grand Juries and Help Us Indict McCabe!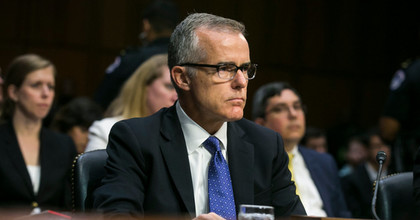 By Adam Goldman
New York Times
August 26, 2019
WASHINGTON — Federal prosecutors in Washington appear to be in the final stages of deciding whether to seek an indictment of Andrew G. McCabe, the former deputy F.B.I. director and a frequent target of President Trump, on charges of lying to federal agents, according to interviews with people familiar with recent developments in the investigation.

In two meetings last week, Mr. McCabe's lawyers met with the deputy attorney general, Jeffrey A. Rosen, who is expected to be involved in the decision about whether to prosecute, and for more than an hour with the United States attorney for the District of Columbia, Jessie K. Liu, according to a person familiar with the meetings. The person would not detail the discussions, but defense lawyers typically meet with top law enforcement officials to try to persuade them not to indict their client if they failed to get line prosecutors to drop the case.


Support Our Cause and Join Our Fight!
Your help is urgently needed!

Follow us on Twitter
and
Facebook