Klayman: Tlaib Puts Forth a Perverted History of the Creation of Israel: The UN Parceled One Half of the Holy Land to Palestinians but They Declared War on the Jews and Lost! Such Is the Consequence for Their Rabid Jew Hatred Which Has Only Gotten Worse Since 1948!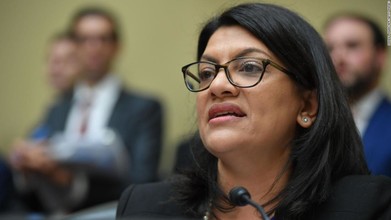 By Eli Watkins and Caroline Kelly
CNN
May 13, 2019
Washington (CNN)Michigan Democratic Rep. Rashida Tlaib defended her recent comments about Israel and the Holocaust Sunday after drawing criticism from top Republicans and Israel's ambassador to the United Nations, accusing her detractors of purposefully mischaracterizing her remarks.

Speaking on an episode of Yahoo News' "Skullduggery" podcast that was released Friday, Tlaib was asked about her support for a one-state solution to the Israeli-Palestinian conflict. She began by noting the recent observance of Holocaust Remembrance Day before veering into the historic position of the state of Israel.

"There's kind of a calming feeling I always tell folks when I think of the Holocaust, and the tragedy of the Holocaust, and the fact that it was my ancestors, Palestinians, who lost their land and some lost their lives, their livelihood, their human dignity, their existence in many ways, have been wiped out, and some people's passports," Tlaib said.


Support Our Cause and Join Our Fight!
Your help is urgently needed!
Subscribe to Our Podcast

Follow us on Twitter
and
Facebook