Klayman: This Fake News Smear Is Defamatory: Chief Justice Moore Is More Pro-Jewish and Pro-Israel Than the Self-Hating Jewish Left!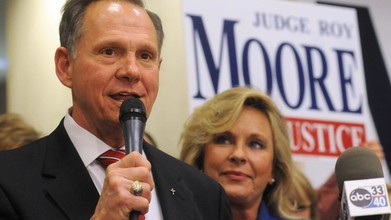 By Noah Berlatsky
Quartz
March 30, 2019
The most egregious use of definite articles as smears against Jewish people is found, inevitably, in Nazi propaganda. One 1943 pamphlet, "The Jew as World Parasite," is typical in its rhetorical framing of Jewish people as a singular malevolent glob—a framing which in translation reads as an obsessive use of "the Jew" and "a Jew."

"The Jew has crept in like a parasite not only into our people, but into all the peoples of the earth," the pamphlet declares. "Never has a Jew, if he was honest, had any real interest in learning from his host people." For the Nazis, "a Jew" and "people" are always linguistically separate. There are no Jewish people; only the Jew, and the people who are not Jews.


Support Our Cause and Join Our Fight!
Your help is urgently needed!
Subscribe to Our Podcast

Follow us on Twitter
and
Facebook