In a Report Before the 2014 Bundy Standoff, the FBI Recommended Waiving the Federal Fees Cliven Bundy Owed to 'Reduce the Risk of a Violent Act'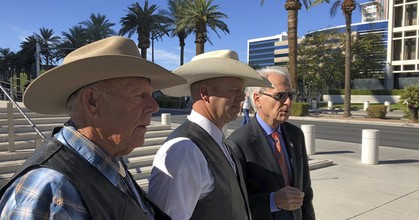 By Leah Sottile
The Washington Post
December 13, 2018
Three years before the impoundment of Cliven Bundy's cattle turned into an armed confrontation between anti-government groups and federal agents, the FBI made an assessment that the Nevada rancher personally was unlikely to be violent in the event of conflict. The agency suggested a novel solution to Bundy's 20 years of unpaid bills, one designed to put the dispute to rest: drop the fines he owed altogether.

The FBI's Behavioral Analysis Unit, based in Quantico, Va., determined in 2011 that the rancher was unlikely to comply with federal court orders to move his 900 animals off federal land, where they had been illegally grazing, because "he only has enough land to handle less than 100 head of cattle." Although the Bureau of Land Management was concerned that allowing Bundy to avoid paying federal grazing fees and fines could lead to violence, the FBI thought otherwise.


Support Our Cause and Join Our Fight!
Your help is urgently needed!
Subscribe to Our Podcast

Follow us on Twitter
and
Facebook