IT'S TIME TO TAKE DOWN THE LEFTIST MEDIA BEFORE IT DESTROYS ALL, INCLUDING AMERICA'S TOUGHEST SHERIFF, JOE ARPAIO!

THE RABID AND HATEFUL NEW YORK TIMES MUST BE HELD ACCOUNTABLE AND FREEDOM WATCH IS THE ONLY CONSERVATIVE BUT NON-PARTISAN WATCHDOG GROUP BRAVE ENOUGH TO GET IT DONE!

A Counter-Revolution Must Be Legally Waged Against the Leftist and Biased Media in Order to Save the Nation. Freedom Watch's Leftist Media Strike Force and Sheriff Arpaio Need Your Help!
Dear Friend, Patriot and Freedom Watch Supporter: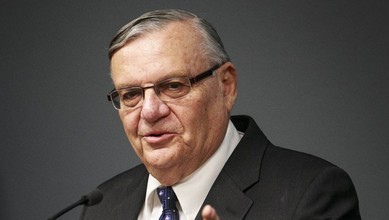 You all know about part of my efforts as the Chairman and General Counsel of Freedom Watch to take on the rabid, leftist media comprised of The New York Times ("NYT"), the Washington Post, the Huffington Post, Politico, The Los Angeles Times, the Phoenix New Times, and the Miami Herald to name just a few. All of these media outlets have censored conservatives and essentially ran attack campaigns in an attempt to smear those who still believe in the U.S. Constitution and rule of law. Indeed, that's why here at Freedom Watch we initiated the Leftist Media Strike Force as part of our Justice League. Our sacred mission: to fatally bankrupt and destroy the otherwise failing "fake news" publication once and for all. It is the leftist media that — in the face of their defeat with Justice Kavanaugh — now seeks to continue its quest to try to bring down an American hero, Sheriff Joe Arpaio.
In this regard, last Wednesday, Freedom Watch filed suit in the U.S. District Court for the District of Columbia against the NYT and its editorial page reporter Michelle Cottle ("Cottle") for defamation per se, tortious interference with prospective business advantage, and false light on behalf of my friend and client, "America's Toughest Sheriff" Joe Arpaio. You see, Sheriff Arpaio is a man who fearlessly stood up and stood down the evil forces of the Left and enforced our immigration laws (I previously succeeded in representing him by legally killing former President Barack Hussein Obama's amnesty for over 5 million illegal aliens). The NYT and its opinion editor Cottle penned a vicious hit piece attacking the Sheriff just after the primary election in Arizona, where he had run for the U.S. Senate. The goal of the NYT and its writer was to destroy the good Sheriff and all that he stands for, much like was recently attempted with now Supreme Court Justice Brett Kavanaugh. In this way, Sheriff Arpaio would be put away where he can no longer represent We the People.
The complaint can be found at
www.freedomwatchusa.org
and was filed as part of Freedom Watch's Leftist Media Strike Force, which seeks to hold the dishonest and unhinged "fake news" and other irresponsible and lawless publications, accountable to the rule of law. The NYT and its leftist sister publications must be destroyed as they are attempting to brainwash the citizenry with leftist propaganda. This cannot and should not be permitted in our country, founded in 1776 by our great and Godly inspired Founding Fathers like George Washington, John Adams, Thomas Jefferson and Benjamin Franklin in my native city of Philadelphia on the Fourth of July.
The defamatory article at issue, published on August 29, 2018 and written by Cottle, is entitled "Well at Least Sheriff Joe Isn't Going to Congress: Arpaio's Loss In Arizona's Senate Republican Primary is a Fitting End to the Public Life of a Truly Sadistic Man." In this article, the NYT and Cottle accuse "America's Sheriff" of scores of heinous crimes and allegedly seek to totally trash and destroy his reputation and standing in the law enforcement and political community, severely damaging his future plans to again run for public office, such as the U.S. Senate in 2020. The article was published with malice.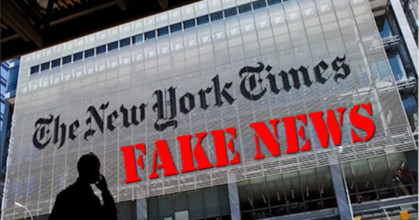 The filing of this complaint was reported by every major publication in the nation with the exception of — you guessed it — the NYT, whose tag line and motto should now be "all the 'fake news' that isn't fit to print." Obviously, the NYT, stung by our damage claim for over $147,500,000, felt it prudent to "shut up" for once! That is because few if any conservatives who have been trashed and their lives ruined by this despicable leftist rag, previously had the guts, with the exception of the good Sheriff, to take it on frontally. Even President Trump, who we support and admire, has shied away from suing this once prestigious paper, despite its having recently falsely accused him, his late father, and virtually all of his family of tax and other fraud.
A press release issued shortly after the suit was instituted contained this statement:
"Sheriff Joe Arpaio, an American hero who has been widely called 'America's Toughest Sheriff,' has had a long and distinguished career in law enforcement and as an elected public official for nearly 25 years. The NYT and its so-called editorial reporter, Michelle Cottle, will be held accountable for their libelous acts, not just to bring about justice for my client, but also for all those who on a daily basis, are demeaned, trashed and harmed by this venomous leftist publication and its staff. By demanding and getting a jury verdict for large compensatory and punitive damages, we hope to bring this 'failing newspaper' to its knees and end its mission to destroy all who it disagrees with, most notably conservatives, including the current president of the United States, Donald J. Trump."
Indeed, as you know, Freedom Watch's Leftist Media Strike Force was conceived of to take on "fake news" publications such as the NYT for this reason. The phony and mixed facts and opinions published by the NYT are maliciously and willfully false. This suit is hard-hitting and is fashioned to finally destroy the NYT and to send a message to other unfair, slanderous, and leftist media outlets that they will have to answer to a jury! It will also make the leftist media realize that conservatives, libertarians and people of faith are serious about waging a counter-revolution peacefully and in the courts! At this point, it is our only recourse.
And, in the last weeks, this same strike force that is taking on the NYT for Sheriff Arpaio also filed a class action lawsuit against Google/YouTube, Facebook, Twitter, Apple and Instagram under our antitrust laws for an agreement in restraint of trade to discriminate against conservatives. The purpose of this discrimination in censoring conservative content; to push a radical leftist agenda, elect more radical socialists, feminists, atheists and others to public office, and then ask for favors to line the pockets further of these super rich social media companies. And, make no mistake about it! The CEO's who run these companies are not only unethical, but despicable and slimy closet Bolsheviks!
When I founded Judicial Watch in 1994 I fashioned it to take strong hard-hitting legal action, not to rely on the government or the "innocence of strangers" to do the job that We the People must do for ourselves. Unlike Judicial Watch today, under its current leadership, Freedom Watch does a lot more than just get documents! We seek justice!
It is time that more heroes like Sheriff Arpaio come forward to take on the corrupt Deep State establishment not just in the media and the government, but also the hordes of leftist violent revolutionaries such as Antifa and Black Lives Matter who seek, with the financial backing of billionaire George Soros, to seize control of our republic, one illegal way or another, thereby destroying our God given freedom and liberties!
I for one will stand with these brave patriots, as I have done recently with Cliven Bundy, his family and countless others who dare to remain free.
And that is why Sheriff Arpaio and we at Freedom Watch need your prayers and strong support, since the fate of the nation hangs in the balance. I encourage you to read the NYT's malicious editorial carefully to fully understand what the stakes are here. It's not just about the venom that flows from this leftist tool of a failing newspaper, as President Trump puts it; rather, it is a concerted effort to destroy good people like Sheriff Arpaio who has been there for all of us and who does not cower to the likes of Special Counsel Robert Mueller, Bill and Hillary Clinton, Barack and Michelle Obama, and other forces bent on removing our great president from office and taking over our nation with their corrupt comrades. On October 18, 2018 during an interview on Newsmax TV, Sheriff Arpaio said, "After 55 years in law enforcement, 24 years as the sheriff who's been elected six times, I have a reputation to be concerned of my family also . . . for this newspaper to hit me like they did, and of course I know the danger right now because all the other media will repeat all these false allegations in every article they write. But we're willing to take on this fight, not just for me but for the president and others who have been in the same boat that I'm in."
The prosecution of this case in defense of Sheriff Arpaio will be very expensive, with the need to take oral testimony through videotaped depositions, obtain internal NYT documents, go to trial and win! And we must win before the "fake news" media, led by the NYT rag, destroys not only the Sheriff but also our president, and all those like you and me who believe in him.
To support Sheriff Arpaio's case and Freedom Watch's Leftist Media Strike Force, as well as our citizens grand juries, which will soon indict, try, convict and sentence to prison the likes of Special Counsel Robert Mueller, Hillary and Bill Clinton and Barack Obama, and donate to our cause. Please generously support Freedom Watch and our great client Sheriff Joe Arpaio with a large, tax-deductible contribution as we continue to fight for you and your loved ones' freedom. Time is short and we will win this battle for the republic . . . and we must WIN at all legal costs, before all is lost.
These are the times that try men's souls. We must all "man up and "woman up" and fight the good fight! It requires not just our collective effort with the power of prayer, but also the financial resources to wage our counter-revolution. We need your strong financial support to get this done.
God bless you and your loved ones,
Yours in Freedom and Liberty Fellow Patriots,
Larry Klayman, Esq.
Chairman and General Counsel
Freedom Watch, Inc.
P.S. PLEASE SEND AN URGENT AND GENEROUS TAX-DEDUCTIBLE CONTRIBUTION TODAY SO WE CAN CRANK UP OUR PROSECUTION OF THE NYT AND THE DEFENSE OF SHERIFF JOE ARPAIO AND METE OUT JUSTICE! PLEASE KNOW THAT YOUR SUPPORT IS ESSENTIAL. WE CAN DO THIS BUT MUST DO IT TOGETHER.
---
HELP ME TAKE ON THE LEFTIST NEW YORK TIMES SO THEY CAN NEVER AGAIN DO TO SOMEONE ELSE WHAT THEY DID TO ME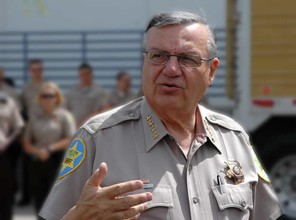 Dear Fellow Patriot and Supporter:
You know me as America's Toughest Sheriff. I have been in law enforcement for 55 years and have had the privilege to serve as the elected Sheriff of Maricopa County for the last 24 years. It was a position I held dear to my heart, as protecting the citizens of Arizona was always my top priority. After a successful career as a law enforcement official and being able to see firsthand what the great state of Arizona is capable of with strong and honest policies and hard work, I wanted to take my policies to Washington, D.C. in order to help President Trump with his worthy and absolutely necessary agendas. And so I ran for the U.S. Senate.
But recently, the New York Times viciously attacked me after I ran for the U.S. Senate in a slanderous and defamatory editorial article entitled "Well at Least Sheriff Joe Isn't Going to Congress: Arpaio's Loss In Arizona's Senate Republican Primary is a Fitting End to the Public Life of a Truly Sadistic Man." This defamatory article accuses me of many heinous crimes and seeks to destroy my reputation and standing in the law enforcement community. If I do not fight back, I may never be able to run for public office again because of the New York Times' intentional smear against me and my family. Michelle Cottle, the so-called opinion writer accused me of "brutality" "terrorizing immigrants" and being a "sadist masquerading as a public servant." I encourage you to read the full article in order to truly see what this false and defamatory article has done to my family. These untrue statements harmed my reputation and have caused me financial damage.
I have retained my friend and attorney Larry Klayman, founder of Judicial Watch and Freedom Watch, to legally take on the New York Times and its staff writer, Michelle Cottle. Larry is the only lawyer brave enough to take on the leftist media and his expertise in defamation law is what I need to bring the New York Times to its knees. I thank Larry Klayman for his fearlessness in taking on hard-hitting cases like mine. He is what we need in order to bring justice to all the people like me who have been mercilessly and falsely smeared by the leftist media, including President Donald J. Trump, who Mr. Klayman and I strongly support. I trust Larry Klayman can get the job done and so should you.
In order to be successful, strong financial support from you is essential. Please donate your tax-deductible contribution today so that we may prosecute the New York Times and defend my and my family's good name. With your financial support and prayers, we can score a huge victory not only for me, but also for all conservatives who have been egregiously and falsely targeted and abused by the leftist media!
God bless you and your family,
Sheriff Joe Arpaio